Leafield Alpaca Trekking
Leafield Alpaca Trekking
Isle of Bute
Share this page on Facebook
01700 501808

Call Now
07599 214153

Call Now
INFORMATION
Walks and feeds with alpacas and Pygmy goats on Bute!
FREDDIE, LOUIE, CHESTER, RUEBEN & OBERON ARE READY TO GO TREKKING WITH YOU
TREKKING
Come along for an 1hr 40mins @£28.00 per person encounter with the boys!

Please turn up at least 10 minutes before the starting time of trek as we would not want to go without you.
The experience starts with meeting the alpacas and includes a 15-minute H&S briefing. You will be shown how to lead your Alpaca and given a bag of feed to give them on the walk. Then off for a walk done at Alpaca pace and they are in no rush!!
You will learn fascinating facts about the animals and get to pet & feed whilst walking your Alpaca and have plenty time for pictures and alpaca selfies!
It can be a bit muddy so advisable to wear wellies or walking boots. Please no umbrellas, or anything flapping around the Alpacas. Unfortunately, as much as we love dogs Alpacas don't and we want to make sure the boys are having as much fun as you.
Children must be over 6 to lead an Alpaca and if under 9 an adult must hold additional lead. The route is not suitable for pushchairs, and small children would have to walk or be carried.
If you bring a baby, you will be unable to be the responsible adult of any other party member. The Alpaca Trekking experience is not suitable for children under 4 unless carried.
MINI TREKKING
A mini one-hour version of the Trekking experience is also available for £22.00 Adult and Child and £20.00 for one Adult with the same 15 min H&S briefing.
ALPACA MEET & FEED SESSION
Great for all ages! Meet handsome Rueben and his friends Chester, Louie, Freddie and Oberon.
Our popular meet and greet sessions are perfect for all ages especially younger children or anyone with mobility issues. Lasts around 30-minutes. £10.00 per person or £15.00 for an adult and child. Children under 3 free but must be with an adult and supervised at all times
PYGMY GOATS
You can also spend time petting and feeding our adorable Pygmy goats Elvis & Ziggy. They are a miniature goat breed that originated in West Africa and adapt beautifully to most climates and are full of fun and mischief. 30 minutes £5 per person.
---
Alpaca Trekking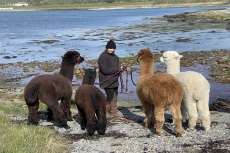 REVIEWS
"Alpaca and goat meet and feed"
Summary review by Roz
Highly recommend the Alpaca and goat meet and feed session. Good experience meeting these cute animals!
"Great time"
Summary review by MC
We had a great time this wee with Rubin and Freddie - lovely gentle creatures, made gorgeous wee humming noises....the cheeky wee goats were great fun trying to fend them off from jumping on us for food
Leave a review for Leafield Alpaca Trekking
DISCLAIMER
The information presented here has been provided by or verified by a representative of Leafield Alpaca Trekking, collected from the public domain and/or feedback from previous customers, users or visitors. It is presented in good faith but is not warranted to be complete or free from errors. E&OE.
Spotted an error? Report it!