Colmac Bridge Standing Stone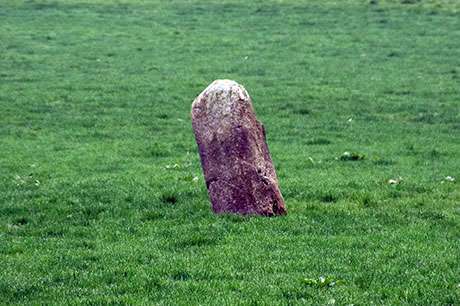 Colmac Bridge Standing Stone
Port Bannatyne PA20
Share this page on Facebook
INFORMATION
Single 2m high standing stone close to old tramway route
Colmac Bridge Standing Stone is a single 2m high standing stone with a slight lean to the east, close to the old tramway route linking Port Bannatyne to Ettrick Bay. This stone is unusual in that there appears to be a chunk missing from the top of the stone, and its alignment suggests it could be significantly linked to the summer solstice.

It was thought to be one of a circle, but there are no other stones to be seen. Perhaps this is because the stone is sited in a field of improved pasture, so it has been used for agriculture.
Dogs Welcome
LOCATION
W3W ///

diets.modem.validated
Parking
Colmac Bridge Standing Stone does not have a car park, however there is usually plenty of free on-street parking in the vicinity.
Public Transport
Colmac Bridge Standing Stone is on the West Coast Motors 490/90 bus route.