St Colmac Cottages Stone Circle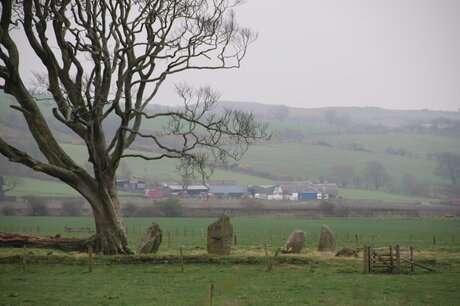 St Colmac Cottages Stone Circle
Port Bannatyne PA20
Share this page on Facebook
INFORMATION
Circle of 8 stones some of significant size
St Colmac Cottages stone circle consists of 8 stones arranged across a diameter of around 13 metres sitting in a cultivated field. 4 of the stones are up to 2.5m tall.

According to records, a second circle nearby was destroyed in the early 1800s - reason unknown. A more recent geophysical search of the site suggests there may be the remains of a Christian chapel close to the circle but there are no visible remains today.

The circle is clearly visible from the level well-maintained path that follows the old tramway route from Port Bannatyne to Ettrick Bay.