St Mary's Chapel (Disused)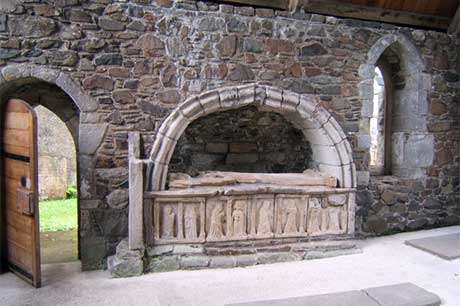 Image is a derivative work based on an original by Barbara Carr published under CC-BY-SA 2.0 The original image was cropped. The derivative work may therefore be reused under CC-BY-SA 2.0.
St Mary's Chapel (Disused)
High Street, Rothesay PA20 9JH
Share this page on Facebook
INFORMATION
Beautiful 13th century chapel once the Cathedral of the Isles
St Marys Chapel sits on the site of the Cathedral of Sodor (the Isles) until 1692, however the building dates from the 13th century. It is a simple rectangular building containing a lovely carved effigy of a Norman knight and a pair of fascinating altar tombs set into the side wall, made of a pale sandstone. The graveyard contains the resting place of one Stephanie Bonaparte, reputedly the niece of the famous Napoleon Bonaparte, although this is not substantiated.
LOCATION
W3W ///

prude.writing.nightlife
Parking
St Mary's Chapel (Disused) does not have a car park, however there is usually plenty of free on-street parking in the vicinity.
Show in StreetView