Cairnbaan Chambered Cairn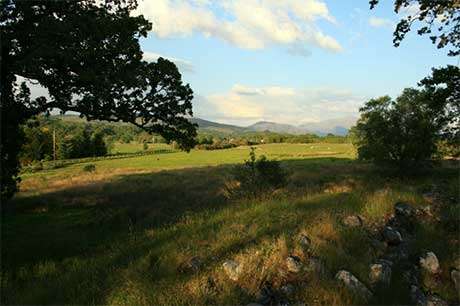 Image is a derivative work based on an original by Mick Garratt published under CC-BY-SA 2.0 The original image was cropped. The derivative work may therefore be reused under CC-BY-SA 2.0.
Cairnbaan Chambered Cairn
Glecknabae PA20
Share this page on Facebook
INFORMATION
A collection of ancient burial chambers in woodland
A well preserved multiple burial chamber roughly 50 metres long containing at least three clearly identifiable chambers, although it is believed there may be many more. Dating from maybe 4500BC this neolithic site was made from rounded boulders, many of which have been removed or repurposed over the centuries.

Direct access by vehicle is not possible - park at Glecknabae and walk north around three-quarters of a mile to the start of the woodland where an obvious path leads off to the right for another half mile and the cairns. Back out to the main track, Kilmichael Chambered Cairn and Chapel are a short distance further north and all three sites can easily be visited in one trip.
Dogs Welcome