Maids of Bute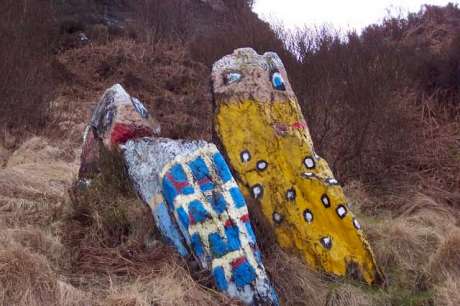 Image is a derivative work based on an original by Gordon Wilson published under CC-BY-SA 2.0 The original image was cropped. The derivative work may therefore be reused under CC-BY-SA 2.0.
Maids of Bute
Rhubodach PA20
Share this page on Facebook
INFORMATION
Pair of brightly-painted rocks overlooking the Kyles
The Maids of Bute are a pair of brightly-painted rocks at Buttock Point at the extreme northern tip of Bute, overlooking the Kyles and the Burnt Islands. They are said to represent the wives of fishermen lost at sea who waited so long for their men to return that they turned to stone. They have been continuously maintained for over 100 years.

Access is a medium-difficulty walk of around 1.5 miles from the free car park adjacent to the CalMac ferry terminal at Rhubodach.
Dogs Welcome
LOCATION
Parking
Park in the free car park at Rhubodach ferry terminal which is the nearest vehicle access to Maids of Bute
Public Transport
Maids of Bute is on the West Coast Motors 490/90 bus route.